Taken during last semester.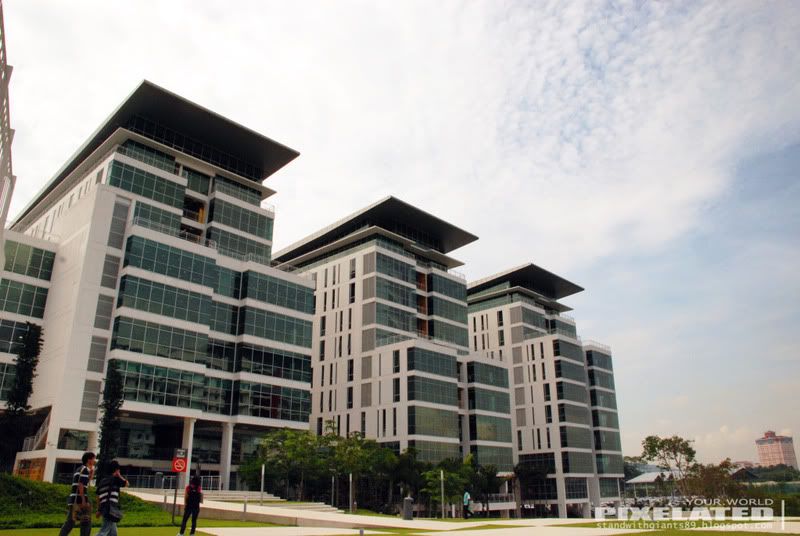 All I can say is this: I'm still not used to the new transition and yes, since I'm staying in the old settlement (Ridzuan and Suriamas area), it's less convenient and more troublesome when compared to studying in the old LCS campus.
1. I need to get up EARLY.
Nobody likes to get up at 6 in the morning and wait for the arrival of the buses at

7

. To think positively, we all will eventually wake up earlier just to beat the traffic jam all the way to our future offices.
During the first day of college there, I actually asked the help of someone who is currently in her PLKN training to wake me up at 5 am. Surprisingly, she messaged me to wake up. Thank you,

Elaine

:) You deserved to be mentioned here.
2. Things are so EXPENSIVE.
As I'd expected, there are rants from my friends saying that the food is expensive even though it is normal in quality. And worse, their serving sizes are too tiny for the prices offered. I do care much about serving sizes ever since I returned from Australia.
To some students (maybe most of you), the prices of food maybe not an issue. But not all students are rich, okay? :) During your parents' age, your lunch will be like around RM 4 (food + drinks included). Today, you would be spending more than RM 10 per meal? Think about that.
For example, I bought a RM 6.00 Spaghetti with meatballs from the Sister's Popiah restaurant this morning. It's a delicious meal, but its serving size is small. Even the RM 5.50 Spaghetti Carbonara from

Sunway Medan

tastes as good and its serving size is as big as the

RM 10

Spaghetti from

Temptations

.
There's good news, though.

Chill

sells cheap food in case you're running out of money. Some of my classmates like the Nasi Lemak there, it's priced at RM 2.50.
3. INCONVENIENT PARKING
I could have take a picture on the parking space, but gosh, I had no mood to do so.
Anyway, I can describe that the college needs around

5

soccer fields of parking space to accommodate the students' cars. And I bet those who drive will tend to risk their attendance and punctuality as they will be finding parking spaces for their car. For the unlucky ones, they got the walk a long way to the classrooms.
Can't blame the college as they don't really expect such vehicle monstrosity. Besides of building a parking lot, it's better for the college to encourage students to

carpool

together. It's not just to ease students in finding parking spaces, carpooling reduces pollution too =)
4.
"We Will Only Take You Back At 2PM"
Though the buses are punctual, I dislike the buses because most of the time I'm only allowed to go back after 2pm. Thank God I took 1 shuttle back to LCS today around 12.30 pm. You see, I have classes only for 2 hours at Wednesdays and Fridays. Meaning, I might have to stay there alone for 2-4 hours just to wait for the bus?
I miss those LCS days where I can just walk home as soon as classes finish.
I
n a nutshell, the PJ campus is still more convenient than ever. You can find a parking around the area easily, you can walk to the campus without thinking about shifting to a more expensive area, and you can even plan outings easily in time without worrying about the parking problems.
It doesn't mean I dislike the new Lakeside Campus. It's one good example on how interior and architecture designing works. If you want a tour, tell me. haha.
Next post will be about assorted photos that I took in Lakeside. Stay tuned.