Thank you for the classmates who inform me both directly and indirectly in
Facebook
. haha. I really feel happy for my results, as I'm worried for my Media Literacies (ML) and Issues in Publication and Design (IPD) the most.
And indeed, I got

3 Credits

and

1 P1

, which is not as good as the first sem, but it's enough to survive the period.
Overall, I felt so depressed for this previous semester. But let me start with the happy stuff first. Well, first is this - somebody whom I dislike has already left my life for good when I returned to KL after my Australian trip. Well, I won't mention who he is here, but then I keep that happiness for myself as I'm sharing it here. Not syok sendiri tau? :)
And second, before we moved to the Lakeside Campus, life in

Leisure Commercial Square (LCS)

rocks, as every week we can have outings during breaks or after class, as well as having good study discussions through some assignments with them.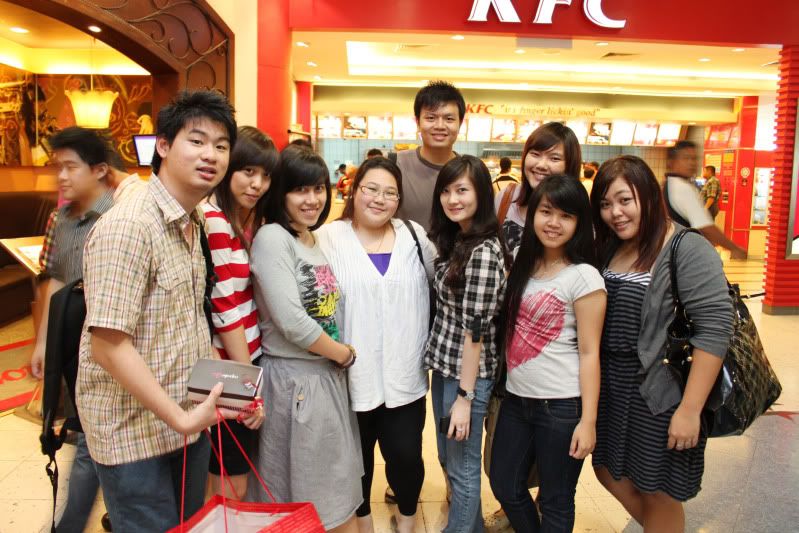 This is one of them. My birthday celebration in Sunway Pyramid. This pic is taken by Bong's Canon EOS 500D. He later upgraded his cam into a 550D.
But then, ever since the move to the new campus, I felt that things changed and I felt depressed, because I felt like everyone's changing and so on, as well as feeling of the fear of facing higher expenditures after the move. You see, things in Taylor's are kinda expensive. Yes, there are cheap food, but then the portion?
But somehow, God gave me a comfort of SMS-es from someone during those first periods in the Lakeside. It was from

Elaine

, my childhood friend who was undergoing National Service that time. Haha, it's kinda fun messaging each other from day to night every weekends, and I'm glad that she's fine after the experience. Now, she will be studying Management in KK. Good luck :) Thank God for her.
Plus, I felt the He also provided me with more companions from my church over there. Suddenly I met more people in the church this semester. Hopefully He will give me some of His selected candidates for me to date with? haha, just kidding.
Hopefully my laziness in this second semester will not happen again. I'd been drinking a total of more than 12 Livita cans this sem. Sigh.