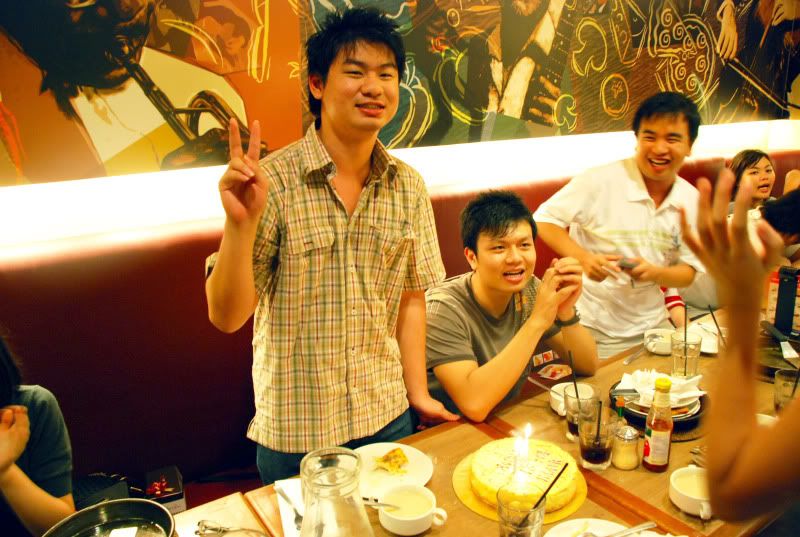 This was taken during my 21st birthday. It was as if it happened a few weeks ago. And I don't think I had changed any of my style ever since, except for the fact that I'm using the Sony NEX-5 more than the Nikon D80.
However, this year there's no celebration. One of the reasons why is I'm not sure about the other CMM-ers' timetable, thus it's harder to coordinate. Our bonds are still very strong last year, this year, things are a little bit different. Still, I missed the togetherness during our first semester.
On old friends? That's even harder, because we're living far from each other. Recently one of them had shifted to Damansara. Boy, how are we going to meet up?
But anyway, I feel that it's worth spending extra time in Facebook and Twitter to reply all those who wished me a great birthday.
Well, to the other Facebookers, if that day is your birthday, and multiple messages come flooding over your Wall Post, let them be. No need to deactivate your account for a day. It gives you extra joy if you appreciate it. Plus, you got to show the appreciation for those who wish you the best for your birthday by replying them, NOT the copy paste style, unless you're too busy with your job out there. At least dedicate a status thanking all of them if you're really in that busy-ness. Give a feedback of appreciation. :)
150 plus wall posts (I think so), with extra special birthday posts and some from my SMS and Twitter, and by face to face means - thank you for making my day.