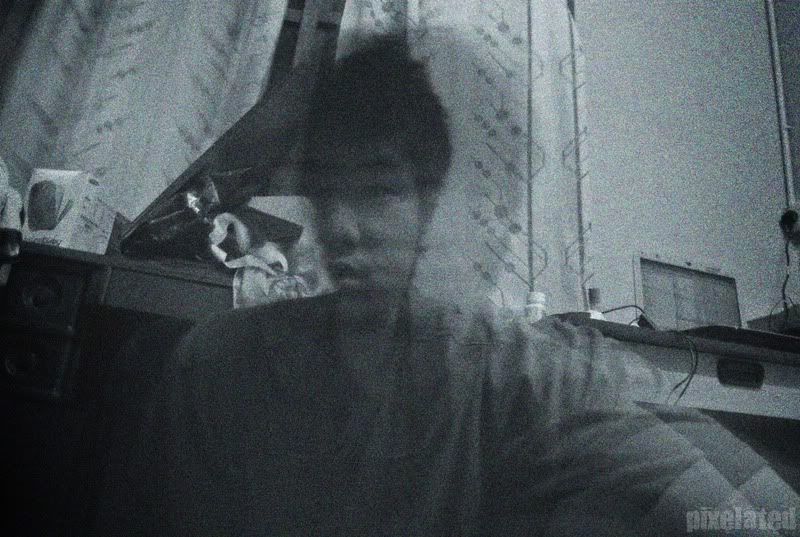 Don't worry. I'm not a ghost yet. I just make this photo to look as if my "spirit" is detected by some paranormal electromagnetic device. Shutter speed: 8 seconds, edited with picture noise, B&W. That is how you make this out of a blur photo :)
Oh ya, make sure your camera is fitted into something stable like a tripod in order to achieve this. You need a clear background, otherwise everything will be blur. Viewer's discretion is advised, as this post is about supernatural stuffs.
My parents returned home 2 days ago with lots of humours and stories to tell during their 3 weeks stay in the

National Heart Institute

.
And a bizarre thing happened in one of the stories.
It started out something like this. I was told that moments just before my dad entered bypass operation, he claimed he saw his old relatives that had passed away, asking him to join them. But thank God he eventually went through the operation successfully.
And that's not enough, the other 2 patients that were warded with him also faced the same thing. One of them saw some visions that he was talking to Dad and his own wife, and after he looked away, both of them

disappeared

. My late grandfather, who left this world peacefully 6 years ago, also claimed to face such supernatural stuffs. There was once when he told Mum that he saw a child in the ward room, but there were only

2

person in the room at that moment - he himself and Mum.
In

National Service

, I even knew somebody from KL who is able to see spirits around the camp areas.
Some may say it's only

hallucination

. Some may argue that it's something else. According to a pastor, she said that these people were having

near death experience (NDE)

- a realm between the living and the dead. If you are weak in spirit, then you'll be joining the dead.
I believe that life is more than just being born, growing up, graduate from education, earning a living, and have children. If the supernatural realms are real, then it will affect your viewpoints about life tremendously.
Today, most of our views of life are

distorted

by the media and the society, making us to only think about achieving

materialistic

success. What if you achieve your goals? Do you feel worth it? Do you think that there's something more significant?
You may not believe in this "paranormal" event. Of course, there is no scientific proof that spirituality is real. The best evidence is when you

yourself

feel it. We are still young, thus we still need to seek more understandings of life.